INTRODUCTION
ABOUT THE CLUB
THE COMMITTEE
JOIN OUR CLUB
MOTORSPORT
MSPORT CALENDAR
DRIVER TRAINING
MEMBER PROFILES
TECHNICAL
MERCHANDISE
MX-PRESS
CHAT ROOM
CLUB HISTORY
IMAGE GALLERY
VIDEO GALLERY
CLUB DOCUMENTS
LIFE MEMBERS
MAZDA DEALERS
NEWS ARCHIVE
EVENT ARCHIVE
CONTACT US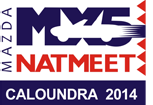 WELCOME TO THE MX-5 CLUB OF WESTERN AUSTRALIA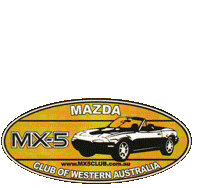 The current temperatue in Perth, Western Australia is 22.8°C.
The weather conditon is Partly Cloudy.
The time in Western Australia is 10:20.


17/06/08 Daves Budget Burger Run 4

Welcome to the MX-5 Club of Western Australia Our activities include ...
Monthly Cruises
Mid week evening drives
Drive Training
MX-5 Club of W.A. "Wheels World" Autokhana series
MX-5 Club of W.A. Sprint series
Funkhanas
Observation rallies
Weekends away
Competing with other drivers or car clubs in various different championships - sprints, hillclimbs, autokhanas and motorkhanas
Charity runs
Country,twilight and dawn drives
Breakfasts and dinners, including a fabulous Anniversary Dinner
And much much more ...